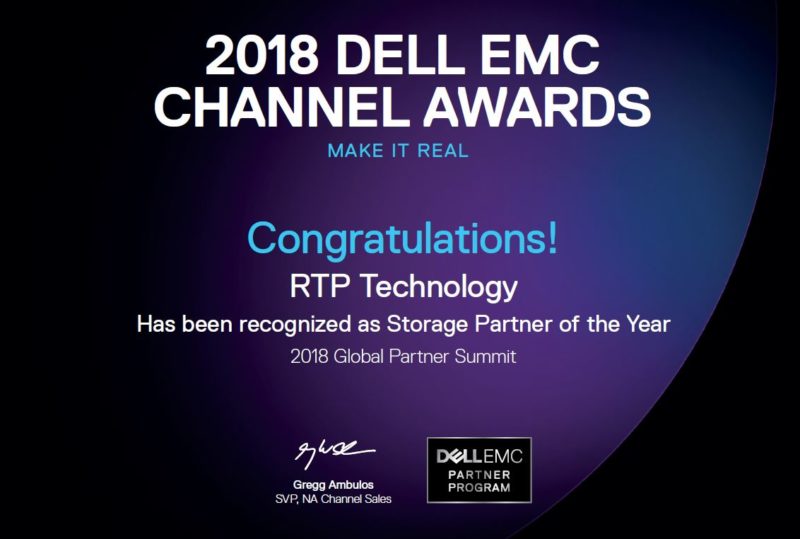 RTP Technology, a Dell EMC Titanium Partner, honored as part of the 2018 Dell EMC Partner of the Year Awards as Storage Partner of the Year
Las Vegas, NV May 1, 2018 — RTP Technology, a business services and technology solutions provider, today announced it has received the 2018 Dell EMC Storage Partner of the Year award for achieving outstanding results and demonstrating commitment to Dell EMC and customers. This marks the first year RTP Technology has received this exclusive recognition. The Storage Partner of the Year award recognizes RTP Technology for developing and deploying innovative solutions around Data and Storage to meet and exceed their customer's business and technical needs.
"It's an honor to be recognized for our continued work with Dell EMC," said Ron Robbins, President of RTP Technology. "This further validates our position as a company working towards increasing our customers business and technology success."
"Our partners extend and enhance Dell EMC's reach and power to do more for customers. With that, we are pleased to recognize RTP Technology with the Dell EMC Storage Partner of the Year award," said Gregg Ambulos, SVP North American Channel Sales for Dell EMC. "We offer up our congratulations as RTP Technology has demonstrated a superior level of revenue attainment, as well as a focus on delivering outstanding customer value with Dell EMC solutions."
The Dell EMC Annual Partner recognition program is intended to recognize partners for their outstanding performance, support and ongoing commitment to Dell EMC. Partners are recognized across various award categories based on partner type/track, including growth, services, storage, server and client solutions.
Founded in 1993, RTP remains a premier integrator of technology solutions across a broad, diverse and growing base of customers. RTP specializes in all areas of the data center & cloud, IT security solutions, professional services & consulting, plus IT sourcing & contract management. The combination of an impressive list of business partners matched with RTP's team of exceptional technology experts produces the foundation for long lasting customer relationships across multiple industries.
For more information, contact RTP at https://www.mainlinertp.com/contact.
Dell, EMC, and other trademarks are trademarks of Dell Technologies Inc. or its subsidiaries. Other trademarks may be trademarks of their respective owners. The use of the word "partner" or "partnership" does not imply a legal partnership relationship between Dell, EMC and any other organization.